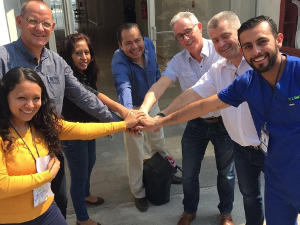 International
In Eastern Europe, many newborn children with Down's syndrome are still handed over to nurseries or foster parents. The major reason for this is the limited knowledge of parents and caretakers about the possibilities of development of these children. There is hardly any care or support for parents who want to bring up their children themselves at home.
The BMS method is applied in Europe, Asia and South America. The activities in Eastern Europe take place thanks to sponsor contributions.
Thanks to the courses that Peter Lauteslager gives in Eastern Europe it is possible for parents to bring up their child at home. And it turns out that they really want to do that. Peter Lauteslager organises parent meetings and trains professionals not only to treat the children, but also to give courses in their own countries.
Financial support is needed for the meetings and courses. Downkids International, Stichting Disabillity Support and 's Heeren Loo have made it possible for Peter Lauteslager to deploy his knowledge and skills in Eastern Europe.