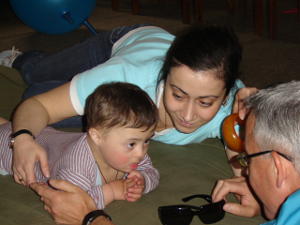 Homepage
The BMS method (Basic Motor Skills of young children with Down's syndrome) is an extremely practical way of coaching the motor development of young children with Down's syndrome. With a paediatric physiotherapist as a coach, parents learn how to stimulate their own child's motor abilities at home. Major factors in the BMS method are the expertise of parents and the child's pleasure in movement.
The Dutch paediatric physiotherapist, Dr. Peter Lauteslager, has conducted research to find out what are the specific problems that face young children with Down's syndrome in their motor development (up to the age of five). On the strength of his findings, he developed the motor abilities test: 'Basic Motor Skills of young children with Down's syndrome', the BMS. He linked a treatment method to it. The therapy is derived directly from the test. Scientific research has shown extremely positive results of the test and of the treatment method.
This unique combination of measuring and treatment has turned out to be very effective and very practical in its application. Not only for paediatric physiotherapists, but also for the parents who are ultimately the ones to do the work. In 2000, Peter Lauteslager gained his doctorate with his thesis on the BMS method at the University of Utrecht in the Netherlands. The BMS method is used in the Netherlands, Belgium, Switzerland, Russia, Romania, Ukraine, Georgia and Bulgaria.