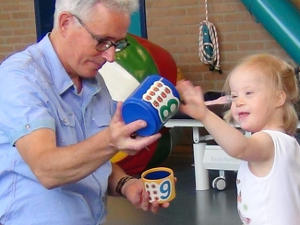 BMS-method
Young children with Down's syndrome often face specific problems in their motor development. Lauteslager conducted research into these problems. Subsequently, he developed a measuring instrument for motor skills, the test of 'Basic Motor Skills for children with Down's syndrome (BMS) and the treatment method 'Physiotherapy for young children with Down's syndrome'.
Each BMS measurement indicates exactly what treatment a child needs. By repeating the measurement, the physiotherapist and the parents gain insight into the child's progress. The treatment plan is modified repeatedly on the basis of these measurements.
The parents play a crucial role in the children's treatment. The physiotherapist works closely with the parents and teaches them how they can work with their child.
Lauteslager describes this unique combination of measurements and therapies, the collaboration with the parents and the positive results of the BMS method in his book 'Children with Down's syndrome: motor development and intervention'.